Financial Partners Credit Union hosts the 6th Annual Economic Forum with Dr. Christopher Thornberg
October 4, 2022
Business Wire
U.S. Experiencing "Stimulus Hangover, Not a Recession"
At Financial Partners Credit Union's 6th Annual Economic Forum, Renowned Economist Dr. Christopher Thornberg of Beacon Economics Shot Down Recession Woes
COSTA MESA, Calif.--(BUSINESS WIRE)--Financial Partners Credit Union, named one of Forbes' 2022 "Best in State'' Credit Unions, hosted its 6th Annual Economic Forum on Thursday, September 29, 2022. Keynoted by renowned economist Dr. Christopher Thornberg, founder of Beacon Economics, the discussion focused on post-Covid new world order and what impact it has on the local economy.
The primary takeaway for the audience, comprised of local business and government leaders who participated both in person and via Zoom, was, "Are we heading into a recession?" Thornberg asked. "Not a chance."
"This is a weird economy. However what the country is experiencing right now is a stimulus hangover, not a recession," Thornberg said. "A recession is a period when the economy has excess capacity. Factories can produce goods, but no one can buy them. People want jobs and can't find them. Unemployment is high. That's not what's happening in our world today."
If not a recession, what can Americans expect? "The real problem is that we've replaced private sector debt with public sector debt," Thornberg concluded. "In the next few years, there will be an enormous fiscal challenge caused by a debt-fueled spending binge."
"This year's Economic Forum once again ignited conversation about the state of the economy and how its impact is felt among the people and businesses in our communities," noted Nader Moghaddam, President and CEO of Financial Partners. "While highlighting the good news that the much discussed recession is unlikely, Christopher shed light on what we should be focused on to thrive during these tumultuous times."
Dr. Thornberg's complete presentation can be viewed on YouTube.
About Financial Partners Credit Union
With the mission of building lifetime financial partnerships, Financial Partners Credit Union serves over 86,000 members in California and stands at $2.1billion in assets. Financial Partners' focus remains the same today as it did when the Credit Union was founded by eight aviation workers in 1937: saving money, making money, and saving time for its members. Membership is open to everyone who lives, works, worships, or attends school in Los Angeles County, Orange County, Riverside County, and San Diego County. Visit FPCU.org or call 844.TRY.FPCU for details.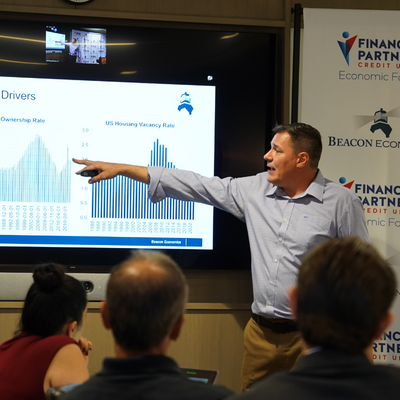 Dr. Christopher Thornberg reviews the state of U.S. Economy at
Financial Partners Credit Union in Costa Mesa on September 29, 2022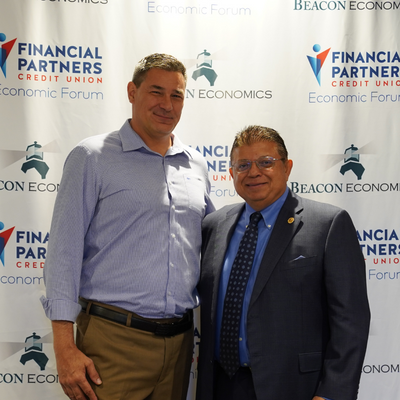 Dr. Christopher Thornberg of Beacon Economics
and Nader Moghaddam, President and CEO of Financial Partners Credit Union