Financial Partners Credit Union to Sponsor First Annual Seal Beach Turkey Trot
September 3, 2019
Financial Partners Credit Union
September 3, 2019 - Downey, CA - A Running LLC, organizers of the Seal Beach Turkey Trot, announced that Financial Partners Credit Union has joined as title sponsor for the inaugural event taking place in Seal Beach, CA on Saturday, November 23rd. The Seal Beach Turkey Trot will feature four events: 10K and 5K races, a Gym Challenge Course, and a 1K Kids Race.
"A Thanksgiving run has long been a tradition for running enthusiasts," said Jason Bruton, founder of The Seal Beach Turkey Trot. "We're excited to bring this event for all members of the family to the Seal Beach community and are thrilled Financial Partners Credit Union is making it possible."
Unique to the Seal Beach Turkey Trot will be a Gym Challenge - which will comprise of a 5K run with six stations along the course route that will progressively challenge participants to perform activities like push-ups, burpees, sit-ups and squats.
"Financial Partners is an ideal sponsor for The Seal Beach Turkey Trot for many reasons," said Nader Moghaddam, President & CEO of Financial Partners Credit Union. "We will be opening a branch for the Seal Beach community early next year and look forward to making partnerships with local residents and businesses. There is also a strong correlation between physical and financial fitness, so it's fitting that our first community event in Seal Beach supports a new venture and reinforces our focus on the overall health of our members."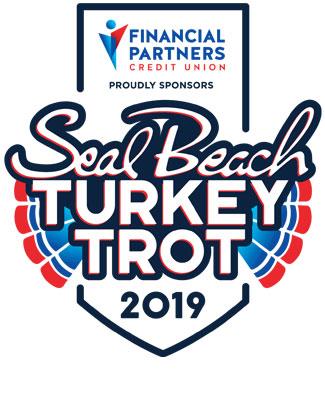 According to a recent poll conducted by CreditKarma, nearly two in five Americans would rather see their debt balances exceed a thousand dollars than become overweight. The average maximum amount they'd be willing to take on instead of gaining ten pounds is $1,299. In contrast, a 2012 survey conducted by Yahoo! Health and Reader's Digest revealed that more than 70% Americans would choose to gain ten pounds over having a $10,000 debt.
"Our mission is to help members achieve their life goals - finances and health being among the top concerns," added Moghaddam. "We truly strive to be life-long partners to our members and provide them with opportunities to improve all areas of their lives."
Participants can register at www.runforturkey.com at an early bird rate prior to September 16th.
About Financial Partners Credit Union
With the mission of building lifetime financial partnerships, Financial Partners Credit Union serves over 86,000 members in California and stands at $2.1billion in assets. Financial Partners' focus remains the same today as it did when the Credit Union was founded by eight aviation workers in 1937: saving money, making money, and saving time for its members. Membership is open to everyone who lives, works, worships, or attends school in Los Angeles County, Orange County, Riverside County, and San Diego County. Visit FPCU.org or call 844.TRY.FPCU for details.