Financial Partners Credit Union to Host 4th Annual Economic Forum
June 24, 2020
Financial Partners Credit Union
The virtual event will be keynoted by Economist Christopher Thornberg will highlight the impact and recovery post-COVID-19 for the local economy
FOR IMMEDIATE RELEASE - June 24, 2020 – Downey, CA – Financial Partners Credit Union announced that their 4th Annual Economic Forum will take place virtually this year on Wednesday, July 8, 2020. Once again, renowned economist, Dr. Christopher Thornberg, founder of Beacon Economics, will keynote the event and focus specifically on the post-COVID-19 economy.
"Our Economic Forum has become a pivotal event for local officials and business owners to gain insights on the local economy and a catalyst for the important conversations that we must have as leaders," said Nader Moghaddam, Financial Partners Credit Union's President and CEO. "Never before has the United States experienced such a dramatic shock to the economy in such a short time. As we manage our response to the pandemic and continue with reopening of the economy, we seized the opportunity to move forward with this timely event to provide this critical information regarding the COVID-19 impact on the economy. Through the virtual platform, we will be sharing Dr. Thornberg's insights with an even broader audience."
In his earlier analysis of the economic impact of COVID-19, Dr. Thornberg made a "case for the V" economy, expecting a visible rebound in the fourth quarter and into next year. Now armed with additional data, he will provide further evidence with his current assessment about challenges and opportunities ahead.
"This Economic Forum will be different from years past," said Thornberg. "We're looking at unprecedented times and the presentation will take place as we enter the third quarter - which I predict is where we'll start to see a more rapid recovery. I look forward to sharing new data and insights, and to what should be a lively discussion."
The complimentary, virtual Economic Forum will take place on Wednesday, July 8th at 11 am. Open to the public, the event will feature an hour-long presentation by Dr. Thornberg followed by an opportunity to ask questions. Space is limited - interested attendees can register at FPCU.org/EconForum.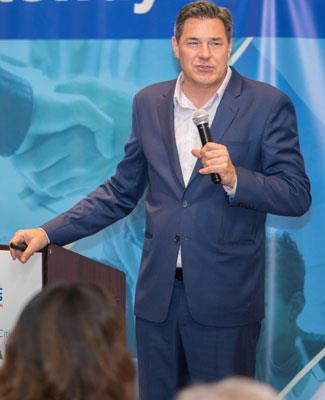 About Financial Partners Credit Union
With the mission of building lifetime financial partnerships, Financial Partners Credit Union serves over 86,000 members in California and stands at $2.1billion in assets. Financial Partners' focus remains the same today as it did when the Credit Union was founded by eight aviation workers in 1937: saving money, making money, and saving time for its members. Membership is open to everyone who lives, works, worships, or attends school in Los Angeles County, Orange County, Riverside County, and San Diego County. Visit FPCU.org or call 844.TRY.FPCU for details.
About Beacon Economics
Founded in 2007, Beacon Economics is a leading independent research and consulting firm dedicated to delivering accurate, insightful, and objectively-based economic analysis. Leveraging unique proprietary models, vast databases, and sophisticated data processing, the firm equips its clients with the analysis needed to understand on-the-ground realities and make informed business and policy decisions. Practice areas include sustainable growth and development; housing, land use, and real estate markets; economic, fiscal, and social impact analysis; public policy analysis; regional economics; and EB-5 Visa analysis.Beacon Economics' internationally recognized forecasters were also among the first and most accurate predictors of the U.S. mortgage market meltdown that began in 2007 – and among a relatively small handful of researchers who correctly calculated the depth and breadth of the financial and economic crisis that followed. Learn more at www.BeaconEcon.com.