Financial Partners is a Proud City of STEM Sponsor
April 6, 2023
Financial Partners Credit Union
9th Annual City of STEM 2023 and LA Maker Faire: A Day of Inspiration and Innovation
The 9th Annual City of STEM festival, held in conjunction with the Los Angeles Maker Faire, brought thousands of curious minds together to celebrate the wonders of science, technology, engineering, and math (STEM) at the Los Angeles State Historic Park on April 1, 2023. The event, a collaboration between Downey's Columbia Memorial Space Center and the Los Angeles Public Library, attracted nearly 20,000 attendees and successfully managed to bridge communities, fostering a passion for learning and discovery. Financial Partners was proud to play an active role in the festival, introducing young minds to the exciting world of STEM through the Girls in STEM Club, and keynote speaker, Bill Nye, The Science Guy.
The Girls in STEM Club, sponsored by Financial Partners Credit Union, saw a large number of budding female scientists, engineers, and technologists participating and discovering the beauty of STEM, challenging stereotypes, and pushing boundaries. It is our belief that supporting the next generation of STEM enthusiasts is essential for our future, and we couldn't be more delighted to contribute to this year's City of STEM festival in such an impactful way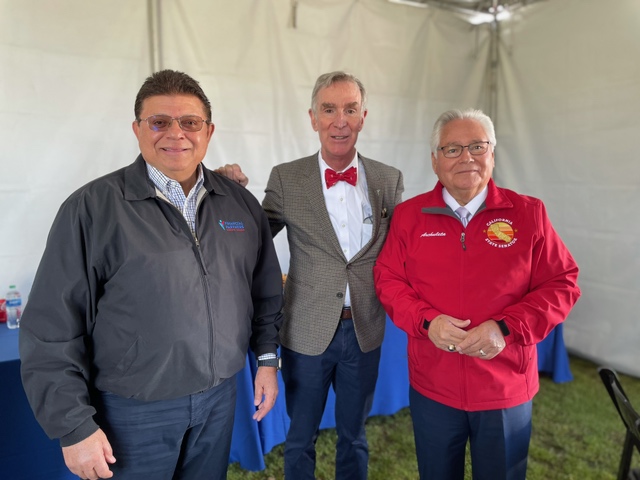 CEO of Financial Partners Credit Union, Nader Moghaddam with Bill Nye the Science Guy, and Senator Bob Archuleta
As CEO of Financial Partners, I take great satisfaction in sponsoring this event and as Chair of the Foundation Board for Columbia Space Learning Center, look forward to expanding STEM learning among kids and in particular girls through Girls In STEM! Nader Moghaddam, Financial Partners Credit Union CEO
This year, City of STEM had a special treat for all attendees: the legendary Bill Nye, The Science Guy, the event's keynote speaker, who delivered an inspiring and captivating talk on the importance of STEM education. His presence became the highlight of the festival, and we were honored to be able to support his appearance through our sponsorship. The excited faces of the young and aspiring audience members reminded us of the impact that advocates like Bill Nye have on our future leaders.

Watch Financial Partners on CBS!
A wide range of over 200 exhibits brought the event to life, featuring everything from hands-on activities to displays of creative technological advancements, giving attendees an immersive experience that showcased the power and potential of STEM disciplines. Participating organizations included all of the Los Angeles-area museums, scientists, engineers, artists, NASA, and various tech companies, united by their passion for innovation and the advancement of STEM learning.
The 9th Annual City of STEM and LA Maker Faire represented the values that Financial Partners Credit Union holds dear: inspiring curiosity, nurturing creativity, and empowering the next generation of problem solvers, inventors, and visionaries. As we reflect on the extraordinary success of the 2023 event, we are excited to partner again in the coming years, contributing to the future of STEM and fostering a community fascinated by the boundless possibilities that the fields of science, technology, engineering, and math have in store.

\
Gina Breaux, Financial Partners Credit Union Director of Business and SEG Development at Girls in STEM Booth